Rep. Danny McCormick. Source: Facebook
A Louisiana legislator isn't backing down in the face of criticism for a tweet comparing vaccine mandates to the rise of Nazi Germany.
On Sept. 15, hours before the start of Yom Kippur, Rep. Danny McCormick, who has been outspoken against mask and vaccine mandates during Covid as a violation of personal freedom, posted an image of President Joe Biden with a Hitler mustache, and the caption "Zee needle in zee skin or Zee executive orderz again."
The Anti-Defamation League's New Orleans office stated that "comparing life-saving vaccines to the architect of the Holocaust is vile." Noting that the "ignorant and odious meme" was posted just before Yom Kippur, the ADL called on him to apologize and for the Louisiana House to hold him accountable.
In a statement to Southern Jewish Life, McCormick said as context, several of his relatives served in World War II "and one gave the ultimate sacrifice… his life."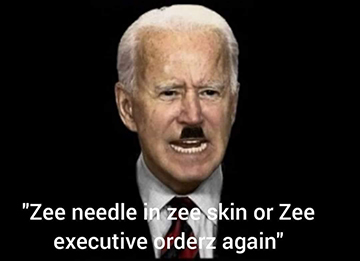 He said the meme he shared "was meant to compare Biden's recent tyrannical actions to the portion of history when early Hitler similarly worked to erode the people's personal liberties. Due to lack of resistance to that early attack on liberty, many lives were lost including some of my own family."
He added, "Hopefully we can all agree that personal freedom is the bedrock of American values."
This isn't the first social media controversy for McCormick, who represents the northwestern corner of the state. On Sept. 2, 2020, he tweeted a version of "Freedom for Humanity," a mural by a left-wing American artist that depicted bankers drawn as Jewish stereotypes sitting around a table that resembles a Monopoly board, with hunched-over naked figures propping up the board on their backs.
The mural sparked a controversy in Britain, where it was painted on a London wall. Jeremy Corbyn, former head of the Labour party who was ultimately ousted partly because of rampant antisemitism in the party under his watch, had defended the mural.
McCormick was criticized by the ADL and fellow Republicans for the antisemitic image, and removed it the next day.
Earlier that summer, McCormick said government "needs an enemy" and those who opposed wearing a mask during the pandemic "will be soon painted as the enemy. Just as they did to Jews in Nazi Germany. Now is the time to push back before it is too late."
At the time, he said he wasn't talking about Jews, but of demonization of people, "not that this is equal to the Holocaust."